My Blog
Posts for tag: dentures
By Four Oaks Dental
January 18, 2019
People have depended on dentures for generations—and they still do. That's because they work, both in restoring dental function and a smile marred by missing teeth.
But they have one major drawback related to bone health. That's because living bone has a life cycle: as older cells die, new ones form to take their place. The pressure generated when we chew stimulates this growth. But when this stimulus goes missing along with the teeth, the cell replacement rate slows and bone volume and density gradually diminishes.
Traditional dentures can't transmit this chewing pressure stimulus. And because they rest directly on the gum ridges, they can adversely affect the underlying bone and actually accelerate bone loss.
But implant technology potentially solves this bone loss problem with dentures by using implants rather than the gums to support them. It's a two-fold benefit: first, the implants relieve much of the irritation to the gums and bone caused by traditional dentures. Primarily, though, the implants themselves can slow or even stop continuing bone loss.
Most implants are made of titanium, not only because it's compatible with the body, but also because it has an affinity with bone. Over time bone cells grow on the titanium post imbedded in the jawbone. This process not only creates stability and durability, it can improve bone health.
In recent years dentists have incorporated implants with dentures to create two exciting treatment options. With one option, the dentist installs two or more implants in the jaw, to which a specially fitted removable denture can be attached. You would still have the ease of removing the denture for cleaning, while gaining greater stability and a reduced risk of bone loss.
The other option is a fixed denture (or bridge) attached permanently to implants. For this option, a patient's jawbone must be adequate and healthy enough to support at least four to six implants. A fixed denture is also often costlier and more complex than a removable denture, but it can feel more like real teeth. It also promotes better bone health too.
Although both options are more expensive than traditional dentures, they can pay dividends for long-term dental health. Implants could help you enjoy your new dentures and resulting smile for a long time to come.
If you would like more information on dental implant-supported restorations, please contact us or schedule an appointment for a consultation. You can also learn more about this topic by reading the Dear Doctor magazine article "Overdentures & Fixed Dentures."
By Four Oaks Dental
August 11, 2018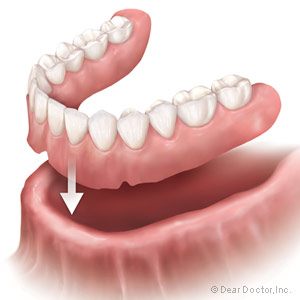 Since as many as 26 percent of older U.S. adults have lost all their teeth, there are a large number Americans who wear full removable dentures, also known as false teeth. You may be one of them.
How much do you know about dentures? See if you can answer the following questions connected with lost teeth and dentures.
Which word refers to the loss of all permanent teeth?

Atrophy
Prosthetic
Edentulism
Periodontal

What is the name given to the bone that surrounds, supports, and connects to your teeth?

Periodontal
Metacarpal
Tibia
Alveolar

What tissue attaches the teeth to the bone that supports your teeth?

Periodontal Ligament
Periodontal Muscle
Parietal Ligament
Achilles Tendon

When a person loses teeth, the stimulus that keeps the underlying bone healthy is also lost, and the bone resorbs or melts away. Pressure transmitted by dentures through the gums to the bone can accentuate this process, which is called

Dystrophy
Atrophy
Hypertrophy
None of the above

A device that replaces a missing body part such as an arm or leg, eye, tooth or teeth is referred to as

Robotic
Imaginary
Exotic
Prosthetic

When teeth have to be extracted, bone loss can be minimized by bone grafting. Bone grafting materials are usually a sterile powdered form of

Allograft (human tissue)
Xenograft (animal tissue)
Both
Neither

Wearers of full dentures must re-learn to manipulate the jaw joints, ligaments, nerves, and muscles to work differently in order to speak, bite, and chew. The name for this system of interconnected body mechanisms, originating with the root words for "mouth" and "jaw," is

Boca biting
Stomatognathic
Periodontal
None of the above

A type of plastic that is artistically formed and colored to make prosthetic teeth and gums look natural is called

methyl methacrylate
beta barbital
rayon
polystyrene

Success in denture wearing depends on

The skill of the dentist
The talent of the laboratory technician
The willing collaboration of the patient
All of the above
Answers: 1c, 2d, 3a, 4b, 5d, 6c, 7b, 8a, 9d. How well did you do? If you have additional questions about full removable dentures, don't hesitate to ask us.
Contact us today to schedule an appointment or to discuss your questions about dentures. You can also learn more by reading the Dear Doctor article, "Removable Full Dentures."
By Four Oaks Dental
May 23, 2018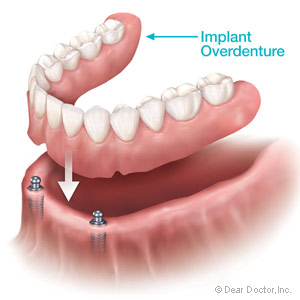 Some patients who wear dentures face a kind of Catch-22: their denture fit may have loosened and become uncomfortable over time due to continued bone loss, yet the same bone loss prevents them from obtaining dental implants, a superior tooth replacement system to dentures.
But there may be a solution to this dilemma that combines the stability of implants with a removable denture. A set of smaller diameter implants — "mini-implants" — can support a removable denture with less bone than required by a conventional implant.
Like all living tissue, bone has a life cycle: after a period of growth, the older bone dissolves and is absorbed by the body, a process known as resorption. The forces generated when we bite or chew are transmitted by the teeth to the jawbones, which stimulates new bone formation to replace the resorbed bone. When the teeth are lost, however, the stimulation is lost too; without it, resorption will eventually outpace bone growth and repair, causing the bone mass to shrink.
Removable dentures also can't supply the missing stimulation — bone loss continues as if the dentures weren't there; and due to the compressive forces of a denture, bone loss accelerates. As the jawbone structure used to originally form the denture's fit eventually shrinks, the denture becomes loose and difficult to wear. It's possible to adjust to the new jaw contours by relining the dentures with new material or creating a new set of dentures that match the current bone mass. Without adequate bone, fixed crowns or bridges anchored by conventional implants may also be out of the picture.
On the other hand, mini-implants with their smaller diameter need less bone than the traditional implant. A few strategically placed within the jaw are strong and stable enough to support a removable denture. One other advantage: these mini-implants can be installed in one visit with local anesthesia and usually without the need for incisions or stitches.
If you would like more information on dentures supported by mini-implants, please contact us or schedule an appointment for a consultation. You can also learn more about this topic by reading the Dear Doctor magazine article "The 'Great' Mini-Implant."