My Blog
Posts for: March, 2019
By Four Oaks Dental
March 19, 2019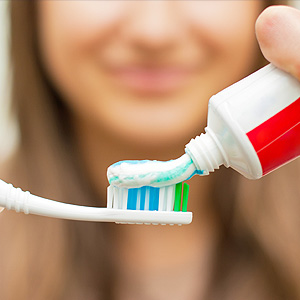 Confused about which toothpaste to buy? You're not alone — we're all regularly confronted with multiple choices when we shop.
But you can simplify your decision-making process by first remembering that toothpaste has one main objective: helping to break down and remove dental plaque when you brush. Plaque is a thin film of bacteria and food particles that if you don't remove through brushing and flossing could trigger tooth decay or periodontal (gum) disease.
Toothpastes contain abrasives and detergents to help make this possible. Abrasives like hydrated silica are gritty substances that work with the mechanical brushing action to loosen plaque. Detergents (usually sodium lauryl sulfate) help loosen and break down particles on your teeth that won't otherwise dissolve with water alone. The combination of these ingredients and daily brushing action enables you to remove a substantial portion of plaque from your teeth every day.
These ingredients (along with others to retain moisture and bind everything together) are the foundation of any toothpaste. There are other additives, however, that you may also want to consider. The most important is fluoride, a naturally-occurring chemical proven to strengthen enamel against tooth decay. If you're interested in a brighter smile, you can also look for bleaching agents that may help whiten some enamel staining. And, of course, there are various flavors to suit your taste.
You'll also want to pay attention to ingredients if you have special concerns. If you have sensitive teeth, your dentist may recommend particular brands that help reduce discomfort. You'll also want to be on the lookout for ingredients that you may be allergic to like the aforementioned sodium lauryl sulfate or flavors like cinnamon. Be sure to read the ingredients label if you have known issues with certain substances.
And while you're reading the packaging look for one more thing — the American Dental Association Seal of Approval. This seal means any manufacturer claims for lower occurrences of cavities or other effects by that toothpaste have been independently verified.
It can be overwhelming amid all the product messaging to decide which toothpaste is right for you. But by knowing these basic facts about toothpaste, you can feel more confident choosing the right one to help keep your teeth and gums clean and healthy.
If you would like more information on oral hygiene products, please contact us or schedule an appointment for a consultation. You can also learn more about this topic by reading the Dear Doctor magazine article "Toothpaste: What's in it?"
By Four Oaks Dental
March 09, 2019
Home whitening kits are a popular way to turn a dull smile into a dazzling one. But these self-applied products only work for teeth with outer enamel stains — if the discoloration originates inside a tooth, you'll need professional treatment.
Known as "intrinsic staining," this type of discoloration most often occurs within a tooth's pulp or dentin layers. There are a number of causes like tooth trauma or tetracycline use at an early age. A root canal treatment used to remove infection from deep within a tooth can also cause discoloration: sometimes blood pigments left after tissue removal or the filling materials themselves can stain a tooth's interior.
Intrinsic staining can often be treated by placing a bleaching agent, usually sodium perborate, into the tooth's pulp chamber. But before undertaking this procedure on a tooth that's undergone a root canal treatment, we want to first ensure the filling is intact and still adequately sealing the tooth from infection. We also want to make sure the supporting bone is also healthy.
If all's well, we access the pulp in the same way as the root canal treatment, and preferably through the same access hole. We then clean out the pulp chamber of any stained matter and then ensure the root canals remain filled and sealed off from the pulp chamber.
We can then place the bleaching agent into the pulp, a process that will need to be repeated every three or four days to achieve the desired level of brightness. After each session we place a cotton pellet over the opening and held in place with a temporary adhesive; we can easily remove and re-apply this covering during subsequent sessions. Once we've achieved the desired color change, we seal the tooth with a permanent filling and restore the access cavity with a tooth-colored composite resin material bonded to the enamel and dentin.
There are other options for an intrinsically stained tooth like veneers or crowns that outwardly cover the discoloration. Internal bleaching, however, is a more conservative approach that causes less alteration of the tooth. If successful, it can restore a stained tooth to a brighter, more attractive shade.
If you would like more information on internal bleaching, please contact us or schedule an appointment for a consultation. You can also learn more about this topic by reading the Dear Doctor magazine article "Whitening Traumatized Teeth."